Nintendo announce the Switch Lite, launching September
After months of rumours and rebuttals from Nintendo, the Japanese gaming giant has finally confirmed what many in the media claimed was true; we will be getting a new version of the Nintendo Switch. The Nintendo Switch Lite will arrive on September 20th and cost $199.99, a full $100 drop from the RRP of the current model of Switch.
The Switch Lite isn't replacing the current Switch. Instead, as the name suggests, it's a parred down version of the console, featuring several core differences that have helped it achieve such a drop in price.
Firstly, the actual 'Switch' functionality of the console has gone. The Switch Lite doesn't come with a dock, and will not be able to be attached to a TV at all. It's a purely handheld console, in a similar vein to the DS and GameBoy families of consoles. With no ability to dock, you'll no longer be able to detach the Joy-Cons from the side of the console; they're fixed in place permanently. Extra controllers, including classic Switch Joy-Cons, can still be paired wirelessly. This means additional controllers will be required in order to play certain motion-heavy games, such as 1-2 Switch.
There's a few other, more minor alterations. HD Rumble is gone, as is the console's frequently maligned kickstand, which will make playing in tabletop mode harder. The overall unit is smaller than the current Switch model, with a 5.5″ screen, compared to the Switch's 6.2″ screen (although they both have the same 720p resolution). The Lite will also have a slightly improved battery life, reflecting the fact it is designed to be played solely on the move.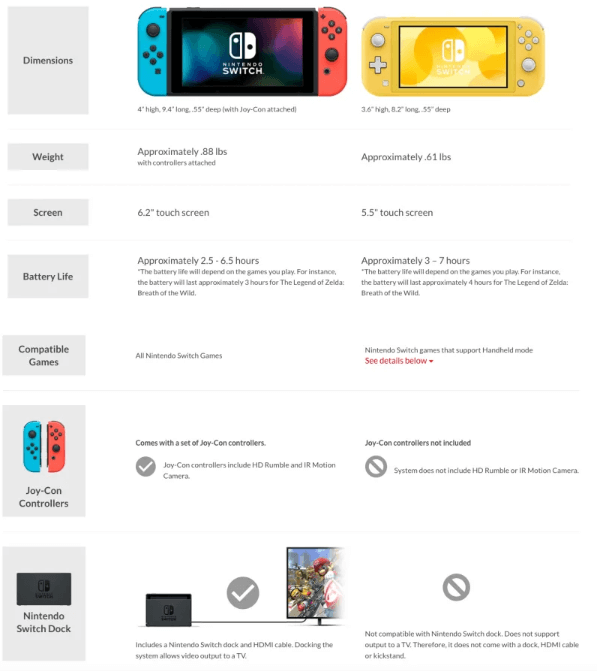 There are three confirmed base colours – grey, turquoise and yellow – and we've already been given a look at the first special edition, which will coincide with the launch of Pokemon Sword & Shield.
The Switch Lite will launch just in time for the big holiday ramp-up, and its lower price point, plus the fact that it's been very quiet on the handheld console front in general over the past few years could make it an enormous success. If you're planning on picking on up, remember that there's no better place to keep track of prices and deals than Consoles.com!